The Federal Flexible Spending Account Program, known as "FSAFEDS" is sponsored by OPM and administered by the federally contracted WageWorks, Inc. To learn about how these Health Care Flexible Spending Accounts (HCFSA)- including the "Limited Expense HCFSA" (LEX HCFSA)- can help federal employees reduce their healthcare expenses, read our FEDZONE article here. In response to the global pandemic, the program is allowing participants to change their annual election amount for pre-tax contributions. Earlier deposits in HCFSAs for 2020 will not be reimbursed, however. The limited 60 day period will run from July 1st to August 30th and will also be applicable to Dependent Care Flexible Spending Accounts (DCFSA).
                FSAFEDS has also extended the grace period for 2019 dependent care expenses. While participants would have until March 15th to incur such expenses and then until April 30th to claim that money for reimbursement- both dates have been pushed to December 31st of 2020. For those with a DCFSA, unused funds from 2019 were not forfeited at the end of April as per usual. For the other types of these accounts, the HCFSA and the LEX HCFSA, the carry-over amount has increased $50 to $550 permanently for when they re-enroll in the following year's plan.
Until Next Time,

**Written by Benjamin Derge, Financial Planner. The information has been obtained from sources considered reliable but we do not guarantee that the foregoing material is accurate or complete. Any opinions are those of Benjamin Derge and not necessarily those of RJFS or Raymond James. Links are being provided for information purposes only. Expressions of opinion are as of this date and are subject to change without notice. Raymond James is not affiliated with and does not endorse, authorize, or sponsor any of the listed websites or their respective sponsors.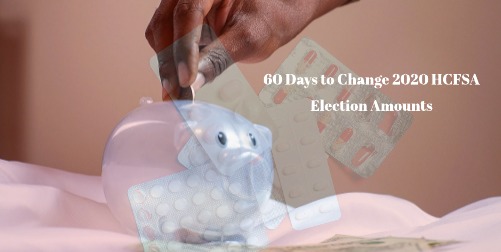 FSAFEDS Elections