The General Services Administration (GSA) recently announced that the per diem rates for lodging, meals, and incidental purposes will be the same as the 2020 figures. For expenses federal employees incur while conducting government business within the continental United States, the per diem rate will stay at $151. Going off of the industry average reported by lodging companies, $96 of the allotted amount can be used for lodging while the remaining $55 can be spent on meals and 'incidental expenses,' which include fees and tips that are paid to, according to GSA.gov, "porters, carriers, hotel staff, and staff on ships."
Although the amounts remain unchanged from 2020, there were some adjustments made to the standard rate list. The per diem rates mentioned above encompass approximately 2,600 counties in the country. However, there are 319 locations that are categorized as 'nonstandard,' where different, area-specific rates apply. Last year, there were 322 such locations but for 2021, 4 will be moved from 'nonstandard' to standard while Albuquerque, NM will transfer to the 'nonstandard' designation. The 3 that will no longer be considered 'nonstandard' will be: Gainesville, FL, Atlantic City, NJ, College Station, TX, and Abingdon, VA.
                The new rates go into effect on October 1, 2020. The per-mile rates for gas and transportation aren't released until the beginning of 2021, when those go into effect on January 1.
Until Next Time,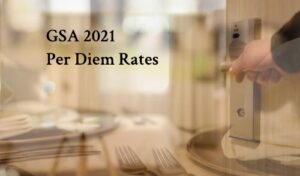 GSA 2021 Per Diem Rates
**Written by Benjamin Derge, Financial Planner. The information has been obtained from sources considered reliable but we do not guarantee that the foregoing material is accurate or complete. Any opinions are those of Benjamin Derge and not necessarily those of RJFS or Raymond James. Links are being provided for information purposes only. Expressions of opinion are as of this date and are subject to change without notice. Raymond James is not affiliated with and does not endorse, authorize, or sponsor any of the listed websites or their respective sponsors.