4 cities are experimenting with a postal banking revival, Postmaster General's efforts to cut costs are implemented, and a report revealed unpaid wages for mail carriers.
The United States Postal Service (USPS) employs more federal workers than any other agency with over 600,000 employees and it is present in every community in the country, so maybe it is not surprising that the USPS has a lot going on at the moment, including a postal banking pilot program. So not only are post offices still dealing with the impact of the pandemic as more people are ordering goods online, but the federal entity is also in the process of switching to a new vehicle fleet, implementing the Postmaster General's controversial 10-year plan while he's being investigated by the FBI, and a recent report is circulating that claims USPS mail carriers have been unpaid for certain wages for over a decade. Along with all of that, a shooting took place at a USPS facility in Tennessee on Tuesday, killing 3 USPS employees.
Shooting at USPS Facility
Around 2:50pm on Tuesday, October 12th, a USPS employee killed a manager and a supervisor before taking their own life. USPS is working with both ATF and the FBI on the investigation. The incident occurred at a USPS carrier annex facility outside of Memphis, TN. The location does not service USPS customers. The motive for the shooting remains unclear, according to law enforcement. USPS leadership released the following message:
"The Postal Service is saddened at the events that took place today in Memphis. Our thoughts are with the family members, friends and coworkers of the individuals involved. The Postal Service will be providing resources to all employees at the East Lamar Carrier Annex in the coming days and weeks."
The two victims were hard-working federal employees with strong ties to their community. Of James Wilson, a close family member remarked: "He wasn't just a manager, he was a friend to all… He helped people in the community and in the neighborhood, he was just that type of person. You couldn't ask for a better manager or supervisor or person."
Louis DeJoy's 10-Year Plan Goes into Effect
On October 1st, the Postmaster-General, Louis DeJoy, implemented his plan to save the USPS money over 10 years. The plan is controversial for two main reasons – it will significantly slow down service to certain regions of the US, and also DeJoy, the architect of the cost-saving plan, is currently under federal investigation for unrelated campaign finance activities. Let's focus on the main problem: slower service for a higher cost to citizens. Because a lot of the money-saving strategy hinges on greatly decreasing airplane mail transportation, this means at least 1/3 of the mail in 27 states will be subject to a slower delivery service standard: instead of a 3 day delivery period for standard mail, there will be a 2-5 day window for mail delivery to be considered "on time." The top 6 states most affected: 70% of Nevada's mail will be subject to the slower delivery times, 60% of Florida, 58% of Washington state, 57% of Montana, and 55% of both Arizona and Oregon. Pretty much every state west of the Rocky Mountains will be affected. There was also an across-the-board uptick in the cost of stamps, which went from $0.55 to $0.58. The cost of marketing mail went up from $1 to $1.16, and media/library mail increased 40 cents from $3.71 to $4.11.
The Return of Postal Banking?
USPS wire transfers and money orders seem to be the only existing remnants from a bygone era when post offices also provided banking services. Banking at the post office was commonplace for most of the first half of the twentieth century. Started in 1911 and phased out in 1968, postal banking reached its peak in the US in 1947 when the total deposits equaled $3.4 billion. Now, with an estimated 60 million Americans who have post office access but no community bank access, there has been a push in recent years to reestablish the postal banking program. Proponents of the idea, who are mostly congressional democrats, argue it would not only help underserved communities but would also provide additional revenue for USPS. What has prevented such a program from being decreed by Congress is mostly the counterargument that the program would not provide enough revenue to make postal banking economically viable. So, in an effort to demonstrate such a program's revenue-making capabilities, a pilot postal banking program, which is not fully supported by DeJoy, has been established as the first step to reviving postal banking at the USPS. Select post office locations in Baltimore, MD, Washington, DC, Falls Church, VA, and New York City, NY are offering new banking services: check cashing, bill payments, and ATM access. The existing wire transfer and money order offerings have also been "improved" at these test locations.
Unpaid Wages for Mail Carriers
USPS mailmen are ubiquitous across the country. In an 8-hour shift, they are expected to sort mail, check undelivered items, load their trucks, and accurately deliver mail on their routes. To survive on a daily basis, a scathing report from the associated press and the Center for Public Integrity (CPI) found many mail carriers forgo breaks and even work overtime without pay.
The US postal service might be $88 billion in debt and operating with 142,000 less positions than it had in 2007, but cutting the pay of the hardest working of the employees is a shameful way to reduce expenses. The report revealed that between 2010-2019, 250 USPS managers from at least 60 post offices in at least 9 states were found to have illegally altered the timecards of mail carriers under the guise of "appropriate timecard administration." Further, it was alleged that many mailmen were fired for complaining about the missing pay, and the managers liable for these actions were rarely held accountable.
Until Next Time,

**Written by Benjamin Derge, Financial Planner, ChFEBC℠. The information has been obtained from sources considered reliable but we do not guarantee that the foregoing material is accurate or complete. Any opinions are those of Benjamin Derge and not necessarily those of RJFS or Raymond James. Links are being provided for information purposes only. Expressions of opinion are as of this date and are subject to change without notice. Raymond James is not affiliated with and does not endorse, authorize, or sponsor any of the listed websites or their respective sponsors.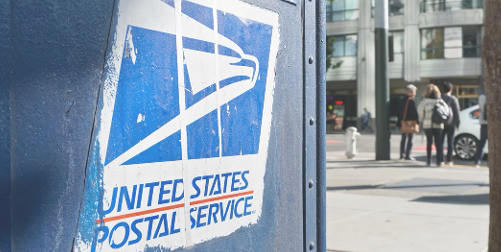 USPS News: Postal Banking