The Thrift Savings Plan (TSP) is set to have some structural changes go into effect in 2022. Also, the contribution limits for 2022 increased by $1000 to $20,500.
The governing body of the TSP, the Federal Retirement Thrift Investment Board (FRTIB), recently laid out the progress and timeline for implementing significant changes to the retirement plan. While the current goal seems to revolve around the majority of the changes being in place by the end of summer 2022, the first steps of implementing the new TSP systems are set to start in January and February. This modernization effort is an extensive undertaking, which aims to replace the old cyber systems that manage and secure TSP accounts with a more contemporary digital structure. It should be noted that a portion of the cost to fund this effort was passed to TSP participants through raising expense ratios of TSP funds.
One of the new features the FRTIB confirmed will be a concierge service for assisting participants with rolling over funds into their TSP accounts. There was no mention of this service also being available for assistance with transferring TSP funds out into other retirement plans or IRAs.
Here are some additional enhancements that TSP account holders can expect:
New Mobile Application
When surveying what TSP participants wanted to see altered, 57% of those under the age of 40 and 24% of those over age 40 expressed a desire for a mobile app. The capabilities that the app will feature include a new chat tool that will be operated by TSP representatives, a virtual assistant that is run by artificial intelligence, secure log-ins that will utilize fingerprint and face recognition technology on users' phones, and a mobile check deposit for adding funds to TSP accounts.
Enhanced Online Security
Even if some TSP participants want to leave their TSP account settings unchanged, all federal employees, retirees, and beneficiaries that own TSP accounts will need to set up a new log-in to access their account online. TSP account holders will also need to establish a trusted phone number or an email for multi-factor authentication, and "higher-risk transactions" that are conducted online will require "one-time passwords" to confirm the user's identity. These new security functions will also allow for more forms to be processed electronically, and with an electronic signature.
To get the new system running, there will be a blackout period where TSP participants won't be able to access their accounts online. The FRTIB made this announcement while assuring the blackout would last only a short duration, and ample notice would be provided when a time and date are set to conduct the system upgrade that will require TSP.gov to go offline temporarily.
The New Mutual Fund Window
One of the biggest changes to the TSP is expected to hit next summer – the mutual fund window. In addition to the 5 investment funds currently available, there will also be a new option that has been called a "window." TSP participants who choose to invest in the new window will reportedly have access to thousands of mutual funds for account holders to invest in. The selection process determining which mutual funds will be made available via this window is currently underway. A recent announcement from the FRTIB revealed there will be a dedicated call center to help exclusively with questions about the fund window and the mutual funds that it will offer.
For more information about the mutual fund window, click here. If you'd like to learn more about the selection process, check out this article.
2022 TSP Contribution Limits
Another change TSP will experience in 2022 is not related to the modernization effort, and is usually updated on an annual basis: increased contribution limits. The limit for employees of all ages will go from $19,500 to $20,500 starting January 1st. To get the full match while putting in the maximum contribution amount, $788.46 must be contributed each paycheck next year. For those feds that are over 50-years-old, a catch-up contribution amount can also be added to the limit. Catch-up contribution limits, however, will remain unchanged from 2021's $6,500 catch-up amount, making the total limit for those eligible to make these additional contributions $27,000 next year. They should add $1,038.46 to their TSP each paycheck to attain their full 5% match, and also contribute the maximum amount.
Until Next Time,
**Written by Benjamin Derge, Financial Planner, ChFEBC℠. The information has been obtained from sources considered reliable but we do not guarantee that the foregoing material is accurate or complete. Any opinions are those of Benjamin Derge and not necessarily those of RJFS or Raymond James. Links are being provided for information purposes only. Expressions of opinion are as of this date and are subject to change without notice. Raymond James is not affiliated with and does not endorse, authorize, or sponsor any of the listed websites or their respective sponsors.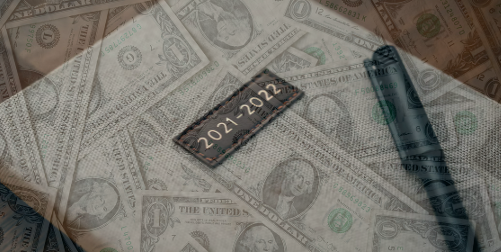 TSP 2022 Contribution Limits