While the country's main sports leagues were all significantly postponed due to the global pandemic, the NFL has been viewed as the main professional sports organization to be least impacted by the Coronavirus. Due to the timing of the virus' spread in the United States- which exploded in the middle of March- the NFL wasn't forced to postpone any regular scheduled games, although the draft was held on-line via video conferencing for the first time ever. So with the league's final game in February, and the next regular season game not on the calendar until September, it has been the belief that football would have plenty of time to devise a plan that optimizes the safety of players and fans without sacrificing any games. Journalists close to the pulse of the NFL are still reporting that football is set to begin on September 10th when the Kansas City Chiefs are penciled in to face the Houston Texans.
However, the US Government's top official on infectious diseases, Dr. Fauci, told CNN last week that "football may not happen this year." The 79-year old director of NIAID (the National Institute of Allergy and Infectious Diseases) has praised both the National Basketball Association and National Hockey League's plans to resume their league's 2020 seasons in a "bubble" at certain hub cities, but the logistics of a similar plan for American Football are much more complicated. For basketball, there can be 12 to 15 players on a single team, and hockey teams have 20 to 23 players at any given time. Also, the "bubbles"- planned in Orlando for the NBA and in an as-of-yet undetermined location for the NHL (Las Vegas is a considered a top contender)- don't include all their professional teams. 22 of 30 basketball franchises and 24 of 30 hockey teams will be resuming play in specialized playoff formats. For football, it would be a lot trickier to organize such a bubble, not only because every team would be participating but also because the sport boasts a 53-man roster for all 32 of its teams. That's 1,696 people… in a quarantined bubble… for 4 to 6 months (not counting coaches and other personnel.) But that's what Dr. Fauci says would have to happen to safely conduct a football season in the fall of 2020, when the regular flu season could be crashing against a second wave of Covid-19. The Doctor who has been the head of NIAID for 36 years can't impose any of these safety protocols on the NFL, though.
The medical officer of the NFL has confirmed there are no plans to "construct a bubble." The safety measure in place will include a tracking system and heavy testing. Players with positive tests will be isolated and companies are currently working on redesigned helmets that allow for comfortable face masks. The CDC (Centers for Disease Control) responded by stating that "the CDC and the [federal] government will not be involved in the NFL's 2020 season in any way… only local governments hold authority to do so."
As for Major League Baseball, the 2020 season has been up in the air since May. A 50 to 70 game season starting in July or August seems most likely… if the entire season isn't canceled altogether. Multiple disagreements between owners and players have jeopardized its return. The first major team sport to return will be Major League Soccer with a "MLS is Back Tournament" starting July 8th in Florida in a "bubble" similar to the kind the NBA is constructing for its tentative July 31st return. Each of the country's soccer teams played 2 games before the pandemic delayed their regular season.
Until Next Time,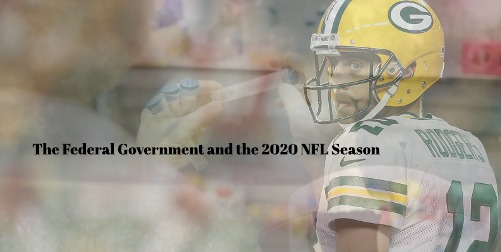 **Written by Benjamin Derge, Financial Planner. The information has been obtained from sources considered reliable but we do not guarantee that the foregoing material is accurate or complete. Any opinions are those of Benjamin Derge and not necessarily those of RJFS or Raymond James. Links are being provided for information purposes only. Expressions of opinion are as of this date and are subject to change without notice. Raymond James is not affiliated with and does not endorse, authorize, or sponsor any of the listed websites or their respective sponsors.
FEDERAL GOVERNMENT AND THE NFL