The launch of two Astronauts into orbit is set to mark a lot of "firsts" for history books. Scheduled for Saturday, May 30th after a weather delay prevented a takeoff planned for Wednesday, the first ever crewed spacecraft to be built by a commercial business, as opposed to a sovereign government, will happen (weather permitting).
 All of the other eight other models of spaceships to actively transport humans were built by either the US, the USSR, or China. The US Space Shuttle program was the fourth and last of these designed in America. NASA's space shuttles started taking people into space in 1981 and ended in 2011, so this is set to be the space agency's first crewed mission since then to takeoff from US soil, and the first debut of an American-built spacecraft in about 39 years. For practically the past decade, NASA's astronauts have been catching rides to the ISS (International Space Station) aboard the Soyuz vessels from Russia, a model that was initially crafted in 1967 by the USSR. The Chinese Government built the Shenzou model in 2003, meaning this is the first debut of a new spaceship model that will carry humans into outer space of the last 17 years. The Chinese craft was last flown in 2016, when its crew rendezvoused with the ISS.
Built by Space X, the new design is called "Crew Dragon" and will carry two astronauts to the ISS after roughly 19 hours in orbit. Robert Behnken, who is 49, and Douglas Hurley, 53, will be the two NASA astronauts that will fill the cabin of the Crew Dragon, which has already successfully delivered non-living "packages" or "payloads" to the ISS. Both of the NASA employees began their careers as military test pilots, but will potentially be just observers as the Crew Dragon is driven completely autonomously. Hurley, who was on the last space shuttle mission in 2011, has not returned to space since then and has been working with Space-X, Boeing, and NASA, since 2015, preparing for Saturday's launch. Behnken was last outside of our Planet's atmosphere in 2010, was Chief of the Astronaut Office from 2011 to 2015, and was also chosen for the first manned commercial spaceflight five years ago.
The main purpose of the mission, named Demo-2, is to transport the two crewmembers to the space station and also- as the name suggests- to "demonstrate" that Space-X is capable of safely carrying a human crew, something that it has yet to do since its creation in 2002.
Until Next Time,

Space-X to Launch Astronauts for NASA
NASA Astronauts Space-X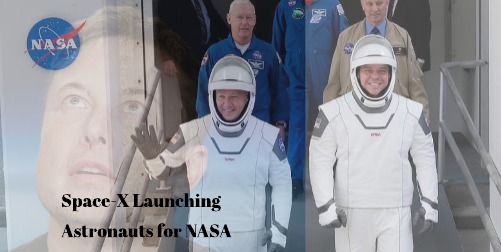 **Written by Benjamin Derge, Financial Planner. The information has been obtained from sources considered reliable but we do not guarantee that the foregoing material is accurate or complete. Any opinions are those of Benjamin Derge and not necessarily those of RJFS or Raymond James. Links are being provided for information purposes only. Expressions of opinion are as of this date and are subject to change without notice. Raymond James is not affiliated with and does not endorse, authorize, or sponsor any of the listed websites or their respective sponsors.