Items of pending legislation that Congress could still vote on: Schedule F, Eliminating the WEP, and more.
There are several prospective pieces of legislation that, if passed, could have a significant affect on some or all civilian federal employees. While some are standalone bills that still need a vote from either the House, the Senate, or both, the other proposed laws are included in the pending budgetary measures that will need to be passed before December 16th to prevent a Government shutdown, namely the 2023 National Defense Authorization Act (NDAA). And although it is likely that this omnibus spending bill will pass before the deadline, whether the finalized version still includes the provisions that directly impact the federal workforce is another matter entirely. As well, what is included in the NDAA has to be re-approved each year.
One of the provisions in the 2023 NDAA that could cause ripples across the future landscape of federal employees involves an "excepted service" category for "policy-related provisions." Specifically, if enacted, this provision would prevent future Presidential offices from creating this category of position through an executive order. This is in response to a 2020 order signed by former President Trump that created a category known as "schedule F," which would have paved the path for the government's civil service to revert back to a "spoils" based system despite being merit-based since 1883. President Biden terminated this order in his first few weeks in the White House.
---
Attend a No-Cost Webinar on Federal Employee Retirement Benefits! REGISTER HERE
---
Another provision in the NDAA would give all Department of Defense (DoD) employees with a current salary of $45,000 or less an automatic 2.4% raise. There is Union support for this measure, but the White House has been opposed, arguing such a raise shouldn't only be for those civilian workers at the DoD, but all full-time feds making less than $45,000 a year. A third provision in the NDAA also has support from union groups, mostly the American Federation for Government Employees (AFGE), and that would expand those who qualify as a LEO (Law Enforcement Officer), thus allowing more individuals to receive the special provisions for their retirement benefits.
Other Bills
There are a few other potential laws that will need to be voted on and approved before the next session of Congress begins in January, or else the bills will have to start their lawmaking journey back at the start of the process:
The VA Employee Fairness Act – Would give bargaining rights to VA employees who currently don't have such rights – these positions include physicians and doctors. (This is also supported by the AFGE.)
The Whistleblower Protection Improvement Act – Provides additional protections for whistleblowers who are either LEOs or who work at certain intelligence agencies,
The Social Security Fairness Act – Would get rid of both the Windfall Elimination Provision (WEP) and the Government Pension Offset (GPO). Read more here.
The Federal Retirement Thrift Investment Board Inspector General Act – If enacted, this would create an Inspector General at the TSP's governing agency. Read more here.
The FAIR Act – Although this bill certainly won't get passed, it will take a similar piece of legislation to override the default 4.6% federal pay raise set for next year. Unless Congress makes a move, like this act that would've made the 2023 raise 5.1%, the White House's suggested average raise of 4.6% will go into effect.
Until Next Time,

**Written by Benjamin Derge, Financial Planner, ChFEBC℠. The information has been obtained from sources considered reliable but we do not guarantee that the foregoing material is accurate or complete. Any opinions are those of Benjamin Derge and not necessarily those of RJFS or Raymond James. Links are being provided for information purposes only. Expressions of opinion are as of this date and are subject to change without notice. Raymond James is not affiliated with and does not endorse, authorize, or sponsor any of the listed websites or their respective sponsors.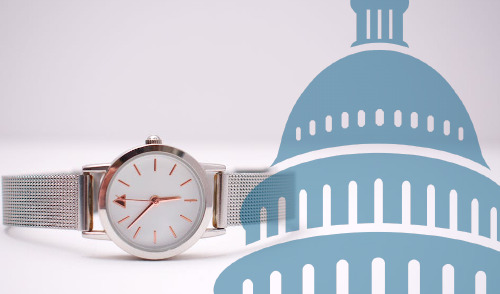 Laws with Impact on Federal Employees