The revamping of Federal hiring processes was first mentioned by the current administration in the White House's recommendations for the 2021 Fiscal Year budget. The main theme of the acquisition refurbishment is that those determining eligibility requirements for available agency positions should gravitate more toward time of relevant work experience than to academic degrees received. The order may appear unnecessary as the U.S. code already prohibits slapping seemingly arbitrary minimum educational requirements on job openings, except for "scientific, technical, or professional" positions where such an education is necessary to tackle the job's inherent duties.
On June 26th of this year, Trump signed an executive order that further solidified the re-conception of hiring in government first outlined in the February budget outline. Proponents of the strategy accentuate the value of this method in more modern fields like cybersecurity, where experience within certain digital environments can sometimes be greatly more beneficial than the act of obtaining a traditional certification, which may just represent a basic understanding of the same cyberspaces. However, many arguments against the change claim it undervalues secondary education, which has been a prominent staple of western civilization for centuries.
Guidance was issued this week from OPM regarding how the executive order would be rolled out into individual agencies. First, the existing statute is strengthened, as the correspondence from OPM bars any education prerequisite unless explicitly required in the aforementioned section of the US Federal code. Again, the language of the executive order appears to reiterate the existing regulation, so the more significant part of OPM's guidance revolves around the statements that mandate all agencies must evaluate their processes for assessing potential hires. The reviews are directed to move away from self-evaluated qualifications (read: resumés) and more towards assessments and tests that help show a candidate is "qualified and eligible." Last month, a Congressional Committee also asked OPM to review Federal hiring processes.
Until Next Time,

**Written by Benjamin Derge, Financial Planner. The information has been obtained from sources considered reliable but we do not guarantee that the foregoing material is accurate or complete. Any opinions are those of Benjamin Derge and not necessarily those of RJFS or Raymond James. Links are being provided for information purposes only. Expressions of opinion are as of this date and are subject to change without notice. Raymond James is not affiliated with and does not endorse, authorize, or sponsor any of the listed websites or their respective sponsors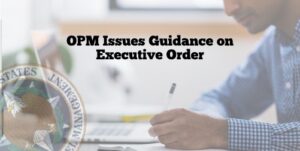 OPM issues Guidance