Back in the Spring of 2018, the Water Power Technologies Office (WPTO)- a subagency of the Department of Energy (DOE)- awarded $2.4 million to various projects in order to study fish. Particularly, the research programs were interested in observing the behavior of various aquatic species around hydroelectric dams. Ensuring the survival of local wildlife has hampered the growth of the country's hydropower sources as efforts have been underway since 2015 to increase US hydroelectric capacity from 101 gigawatts to 150. If achieved, the increase in water-based energy would be able to power 35 million more homes than current levels allow- and save $209 billion for the federal budget.
One of the projects funded by the WPTO was to study and evaluate a passageway considered by experts to be a "fundamental shift" for fish who live near facilities that produce hydroelectric energy. The fish's passage is known as the "Entrance Palisade." Not only could the innovation potentially benefit aquatic critters, but it may also significantly reduce construction costs associated with building hydroelectric dams. In conjunction with the US Geological Survey (USGS), a team from University of Massachusetts-Amherst evaluated the "Entrance Palisade" on the Columbia River in the states of Oregon and Washington. The Atlantic Salmon and the blueback herring were two of the species studied.
In the 2019 USGS report on energy and wildlife research, the initial results and findings of the research from UMASS were published and can be found here on page 66.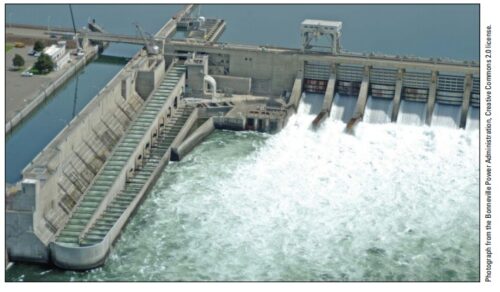 One interesting tidbit from the studies exemplifies the potential capability of these passageways to prevent intrusive species from safe passage while allowing native or "desirable" fish to travel back and forth. One example of this situation is from the Great Lakes, particularly of concern to Canadian and Michigan residents, and involves an animal known as 'Sea Lamprey'- which is invasive and parasitic. An "Entrance Palisade" may allow for such solutions while also leaving the structure itself undamaged.
Until Next Time,

**Written by Benjamin Derge, Financial Planner. The information has been obtained from sources considered reliable but we do not guarantee that the foregoing material is accurate or complete. Any opinions are those of Benjamin Derge and not necessarily those of RJFS or Raymond James. Links are being provided for information purposes only. Expressions of opinion are as of this date and are subject to change without notice. Raymond James is not affiliated with and does not endorse, authorize, or sponsor any of the listed websites or their respective sponsors
DOE Fish Research
DOE Fishy Research