Around this time in 2018, the largest and deadliest wildfire to rage across the state of California was ferociously burning still- and had been since November 8th. Not just historic for the state and country, the blaze (coined 'Camp Fire') was the most expensive natural disaster in the world for all of last year. Damages in uninsured losses were estimated at $16.5 billion. Much more tragic, there were also 85 deaths that resulted from the wildfire- and one person is still missing. The fire wasn't contained until November 25, 2018.
Operating under the DoD's Chief Information Officer, JAIC (the Joint Artificial Intelligence Center) is set to start testing a new artificial intelligence program it has developed to help combat such wildfires in the future. Equipped with an airborne sensor and an algorithm that utilizes geolocation data, JAIC will work with the Coast Guard on the program in upcoming months.
Until Next Time,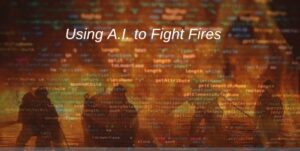 **Written by Benjamin Derge, Financial Planner. The information has been obtained from sources considered reliable but we do not guarantee that the foregoing material is accurate or complete. Any opinions are those of Benjamin Derge and not necessarily those of RJFS or Raymond James. Links are being provided for information purposes only. Expressions of opinion are as of this date and are subject to change without notice. Raymond James is not affiliated with and does not endorse, authorize, or sponsor any of the listed websites or their respective sponsors.
Federal A.I. Program – Federal AI, Wildfires