An April meeting in the oval office exemplified the weird relationship between an antimalaria drug, hydroxychloroquine, and the current Presidential administration. Peter Navarro, who is Director of the recently established Office of Trade and Manufacturing Policy (OTMP), reportedly raised his voice during the meeting while defending his confidence in the drug's ability to help hospitalized patients with COVID-19 fight off the disease's damage to the body. Meanwhile, a source in the room has claimed that Dr. Anthony Fauci, who has been the Director of the National Institute of Allergy and Infectious Diseases (NIAID) since 1984, "looked confused" while Vice President Pence "was trying to moderate the heated discussion." In response to Navarro's claims that hydroxychloroquine was evidently effective based off studies from France and China, Dr. Fauci said the evidence was "anecdotal" and noted that more research was needed. The meeting ended with a public statement that the choice to use hydroxychloroquine (and the similar chloroquine) was to be made between a patient and their doctor.
While the President himself has touted about hydroxychloroquine's efficaciousness on numerous occasions, details from the meeting above seem to show Navarro as the defendant for the drug's proliferation. As Director of OTMP, Navarro has been responsible for sourcing the drug from international and domestic companies. The FDA (Food and Drug Administration), a subagency of HHS, had granted emergency use authorization (EUA) for the drug on March 30th but that has been revoked less than 3 months later, on June 15th. A few weeks before that, back at the NIAID (whose parent agency is NIH, another subagency of HHS), Dr. Fauci made his "most definitive statement yet" that the antimalaria treatment is noneffective for COVID-19. On top of that, the adverse side-effects from the medication, which are mostly serious cardiac issues, have emerged with its increased use to combat the coronavirus.
Until Next Time,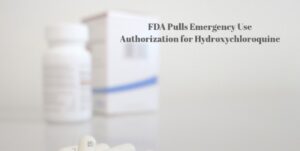 **Written by Benjamin Derge, Financial Planner. The information has been obtained from sources considered reliable but we do not guarantee that the foregoing material is accurate or complete. Any opinions are those of Benjamin Derge and not necessarily those of RJFS or Raymond James. Links are being provided for information purposes only. Expressions of opinion are as of this date and are subject to change without notice. Raymond James is not affiliated with and does not endorse, authorize, or sponsor any of the listed websites or their respective sponsors.
FDA Reverts Stance on Hydroxychloroquine