Grounded since 2019, the FAA approves Boeing's 737-Max Airplanes for Flight
                It has been over 20 months since a March 2019 plane crash in Ethiopia that resulted in a ban on Boeing's 737-Max model of airplane. Both the Federal Aviation Administration (FAA) and Boeing were placed under intense scrutiny because of two deadly incidents with the specific type of aircraft. An earlier crash had occurred over the Java Sea in October 2018, when Indonesian Airlines was the airline operating the 737-Max. This September, a committee in the House of Representatives called the two accidents' total 346 fatalities "preventable" because the technical failures involved were the direct result of regulatory, design, and management deficiencies. The FAA, Boeing, and those responsible for oversight were investigated by Congress.
Hello, Sky- 737-Max is Back in the Air
The improvements that have been made to ensure the 737-Max model will operate correctly led to the airplane receiving reapproval from the FAA. American Airlines will begin utilizing the Boeing plane at the end of December, while United and Southwest confirmed plans to utilize the vehicle in flights starting at some point in 2021. CNBC reported that travelers will be able to pick flights that aren't flying with the 737-Max model. Global aviation authorities independently inspected the model's enhancements before the FAA gave its approval. New crew procedures and training exercises have also been implemented to increase safety when operating the Boeing product.
Until Next Time,

**Written by Benjamin Derge, Financial Planner. The information has been obtained from sources considered reliable but we do not guarantee that the foregoing material is accurate or complete. Any opinions are those of Benjamin Derge and not necessarily those of RJFS or Raymond James. Links are being provided for information purposes only. Expressions of opinion are as of this date and are subject to change without notice. Raymond James is not affiliated with and does not endorse, authorize, or sponsor any of the listed websites or their respective sponsors.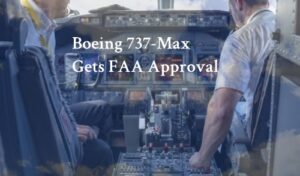 FAA, Boeing, 737-Max Airplanes