3.2% Federal Pay Raise for 2022 indicated in proposed legislation.
The Federal Adjustment of Income Rates (FAIR Act) was introduced for the 6th time in Congress. Since 2016, the bill itself has been proposed annually but has never become law. This year, Virginia Representative Gerry Connolly and Hawaii Senator Brian Schartz brought forth the legislative item in support of the federal workforce, and with praise by federal employee advocacy groups.
Here is a chart of every year's pay raise as it was written in the previous year's version of the FAIR Act versus what actual percentage came into fruition:
| | | |
| --- | --- | --- |
| Year | Proposed in FAIR Act | Actual Pay Raise |
| 2017 | 5.3% | 2.6% |
| 2018 | 3.2% | 1.6% |
| 2019 | 3.0% | 1.9% |
| 2020 | 3.6% | 3.1% |
| 2021 | 3.5% | 1.0% |
| 2022 | 3.2% | ?? |
The figures above and the new number for 2022 all include locality pay. The actual pay raise proposed in the newest FAIR Act was 2.2% "across the board" plus 1% locality.
The Biden Administration has until August to submit an alternate plan. With the White House's budget proposal in the works for Fiscal Year 2022, there might be clues ahead pertaining to the new President's opinions on implementing next year's federal pay raise.
Until Next Time,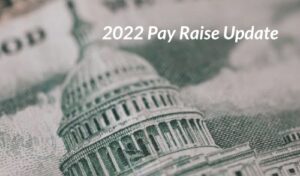 **Written by Benjamin Derge, Financial Planner. The information has been obtained from sources considered reliable but we do not guarantee that the foregoing material is accurate or complete. Any opinions are those of Benjamin Derge and not necessarily those of RJFS or Raymond James. Links are being provided for information purposes only. Expressions of opinion are as of this date and are subject to change without notice. Raymond James is not affiliated with and does not endorse, authorize, or sponsor any of the listed websites or their respective sponsors.
2022 Federal Pay Raise